Browsing articles in "2018-2019 Mayor Jabba Riaz"
We are truly blessed to live in a wonderful, caring and compassionate city – something which I am proud to tell residents about on a daily basis.
We have had a brilliant summer in Worcester and our High Street has been a buzz with shoppers and excitement.  So it's no surprise that it has been shortlisted for the prestigious VISA Best High Street award! Judging took place on Wednesday and the results will be announced in early November.  The public element of the vote is vital – you can help by searching for #GBHSWorcester on Facebook, Instagram or Twitter and re-tweeting or sharing posts that come up.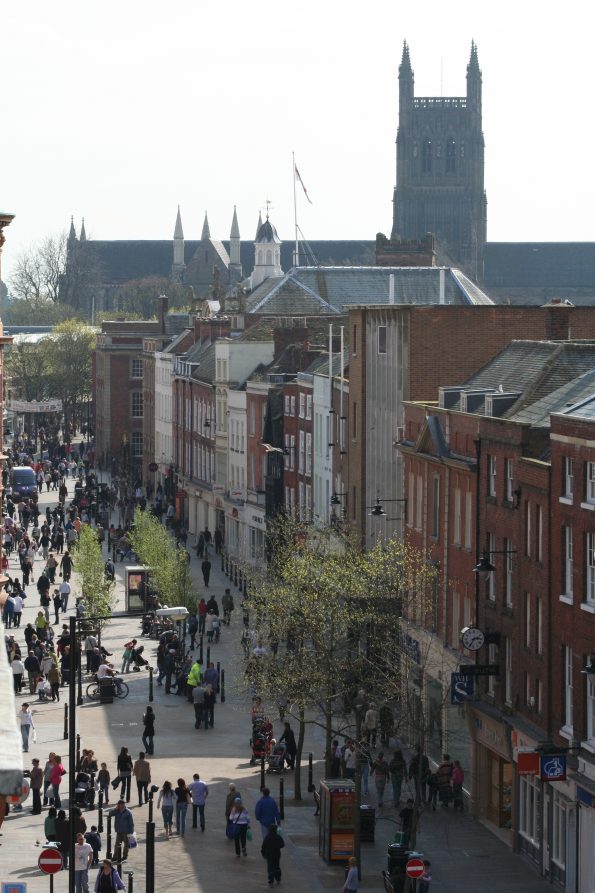 It was a pleasure to host the Deputy Lord Lieutenant at a British Empire medal awarding ceremony at the majestic Guildhall this week.  It's always heartening to see residents recognised for their years of service to the city; well done to Worcester resident Mrs Cecilia Denlegh-Maxwell for her services to the community.
I teamed up with County Council Chairman Brandon Clayton for a visit to Acorns Hospice.  They have done amazing work over the years, and are now celebrating their 30th birthday in Worcester. The charity has beautiful facilities and provides an excellent service.
It was an honour to team up with veterans later in the week, and enjoy a coffee at the breakfast club in the Postal Order.  We had a catch-up on the good work that is being done to help them – as well as the reintegration issues they face, and their battles with mental health.
This week I also had the pleasure of attending the Worcester Stands Tall auction, where the beautiful giraffes that brought so much joy and happiness to the city were auctioned off individually.  A staggering £210,000 was raised for St Richards Hospice.  All credit to the organisers of this initiative, which attracted so many new tourists to Worcester from across the nation!
As always, I am grateful for the opportunity to see so many fantastic people and attend their events in this great City.
…based loosely on 'Lullaby' by Professor Green:
Being a Man 
It's been a while since I last dreamt
Finding it hard to get to sleep, too stressed
Pretending this crap don't get to me
I suffer in silence when I'm hurt
A man's problems are his own
mental health issues leave you out on your own.
Too proud, or scared to talk, all pent up inside.
And it's my burden
But I find it hard to switch off, my mind's in overdrive
Going through all the scenarios at full speed
Off the rails, my train of thought is in need
Sick of pretending to be so happy
My anxiety's inside's killing me
I look up to the sky
It comes down crashing,
the walls close in and the ground swallows me up
As if all the good in my life in a flash disappears
In an instant, that thing is just so distant
I see the ones who I love, the ones who love me
But how can I tell them, in case they judge me?
It's just meee, wish I could let somebody in
But I have never been too trusting
Sick of all these nightmares
I hide everything that's going on inside
Guess it's been a while since I've been honest,
I need help, but I deny it and even lie, to myself
I just wish someone would tell me it would be great
I just want to see a glimmer of hope, in this darkness , okay!
It's hard, depression is a slippery slope
I don't wanna do what many have done , with a rope,
Damn gotta get out of the trap I set in my mind.
All this negative self talk , all these eyes watching me
If I only I could escape into reality, but years and years of
Being stuck in this black hole, its going to take some time so make a note.
I just need a friend to love and take care of me, keep me going and be there for me, to listen understand and try to connect the dots, if they can.
As life never works the way you plan especially When you're trying to be a man.
It was with great sadness that I received the news that a body had been recovered from the river a week last Friday. It was later confirmed that this was the body of the missing teenager Tom Jones – or Jonah, as he was affectionately known. On Sunday evening I was humbled to have been part of a candle lit vigil held in Tom's memory, organised by his friends.
Approximately a thousand or so friends, family and residents of the City and further afield stood by Sabrina Bridge in what can only be described as a sea of light from mobile phones and candles, which spread across the bridge and both banks of the river. The love and outpouring of grief could be felt by all.
Tom's parents, whom I am in awe of for their bravery and gracefulness under the circumstances, addressed the crowd to say thank you.  They lifted people's spirits and reminded us of Tom's joyful and happy character. I addressed the gathering too, saying that the city had adopted Jonah as one of its own sons.  My mayoral theme of 'Love Not Hate' was in full display, with so much empathy shown.  Everyone felt a sense of belonging and togetherness – a proud moment for the City.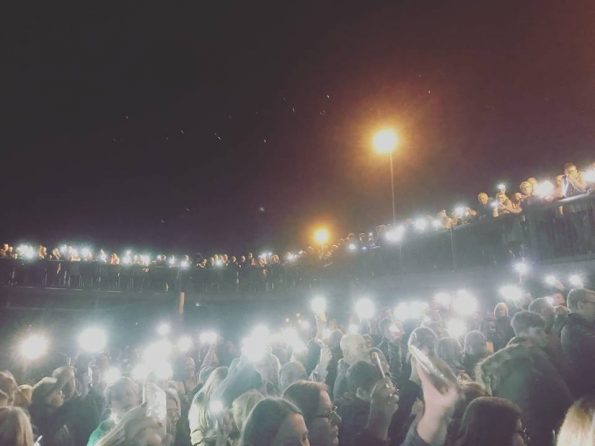 On a lighter note, it was an honour to host the Worcestershire Rapids at the Guildhall last week.  Together we celebrated a fantastic achievement that will be etched in Worcester's memory for eternity.
The Rapids are a young enthusiastic, down to earth squad, built on strong foundations of, trust, hard work, belief, teamwork and determination.  They are ably led by the cool, calm and collected Moeen Ali, who showed that David really could beat Goliath!  An enthusiastic crowd greeted the team on the doorsteps of the Guildhall, before they lifted the T20 trophy and signed autographs.  It is a great example of what can be achieved without big money and mega star signings.
It's usually times of adversity and triumph that reveal a city's true character.  I am proud that the residents of Worcester have come out in support of the family and friends of missing teenager Thomas Jones. Worcester residents have taken to Thomas as one of our own and have shown warmth, kindness and a willingness to help.  Thomas's family has remained dignified and graceful and have shown real strength throughout this terrible time.  As a City we stand as one with them. Please, please, if you have any information at all, regardless of how trivial you think it may be, contact the Police by calling 101.
On Friday I hosted the Hereford and Worcester Fire Authority awards.  As always it was an amazing evening where officers of the H & W Fire Brigade, as well as the Police and Ambulance services, are commended for their acts of bravery and for long service. The Lord Lieutenant handed out awards to our brave officers and emergency service staff, to the delight of assembled friends and family.  This recognition is thoroughly deserved and warranted.
Saturday saw the eightieth birthday of the Worcester Soroptimists Club. Sajeeda and I enjoyed a lovely evening with Club members from across Europe sharing the great memories, achievements and charitable contributions that have been made by women in the city and county.
Despite the best efforts of the weather to spoil the day, I was privileged enough to lead the first Pride March through Worcester last Saturday. Hundreds joined in and the Carnival atmosphere and party feeling in the City were self-evident, as the colours of the Rainbow flag flooded the streets.
As I said in my speech on the day, Love Not Hate must transcend all our communities.  True love and equality can only be achieved when we respect the rights of others, celebrate our differences, tolerate those that we may disagree with but ultimately view each human life as equally special and valuable as our own – regardless of race, religion, creed, gender or sexual orientation.
I hope you have a lovely weekend.
Upcoming Events
19/02/2019 19:00

Full Council
AEC v1.0.4