About the Mayor
About the Mayor
The Mayor is the Civic Head of the Council. In May of each year, one of the Councillors is elected to serve as Mayor for one year and another elected as a Deputy. The Mayor chairs meetings of the Full Council and represents the city at ceremonial occasions. The Mayor also welcomes international visitors and attends events organised by local people.
The Mayor for 2018/2019 is Councillor Jabba Riaz

Jabba Riaz grew up in Worcester, living in the Ronkswood, Stanley Road and Wylds Lane areas of the city.  He attended Perry Wood and Stanley Road primary schools, Nunnery Wood High School and King's School, before studying for a degree in business in Leicester.
Jabba has been self employed in the past, at one point taking over the running of the post office on Worcester's London Road to save it from closure. He is now employed by Air Products – a local company which supplies a wide range of cryogenic and specialist gases to clients in the science, leisure and industrial sectors.
Jabba is married, and has three children.  He is an active member of his local community, playing and coaching cricket in his spare time.
Jabba's nominated charities during his mayoral year will be:-
St. Richard's Hospice – a local charity which supports patients with life-limiting illnesses, and their loved ones
Worcester Community Trust – which runs six community centres across the city, offering a wide range of activities particularly for young and older residents
Worcester Live – the main arts provider for the city which runs the Swan Theatre, Huntington Hall, Henry Sandon Hall and also the annual Worcester Festival.
Councillor Allah Ditta is Deputy Mayor for 2018/19
Past Mayors of Worcester Since 1999
2017/2018 – Steve Mackay
2016/2017 – Paul Denham
2015/2016 – Roger Knight
2014/2015 – Alan Amos
2013/2014 – Pat Agar
2012/2013 – Roger Berry
2011 – 2012 – Dr David Tibbutt
2010 – 2011 – Mike Layland
2009 – 2010 – Andy Roberts
2008 – 2009 – Lucy Hodgson
2007 – 2008 – Stephen Inman
2006 – 2007 – Ian Imray
2005 – 2006 – Aubrey Tarbuck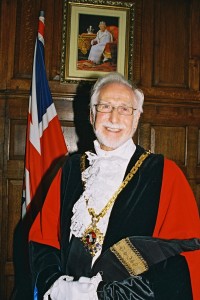 2004 – 2005 – Allah Ditta
2003 – 2004 – Gareth Jones
2002 – 2003 – Robert Rowden
2001 – 2002 – David Clark
(No photo)

2000 – 2001 – Mary Drinkwater
(No photo)
1999 – 2000 Josephine Hodges
(No photo)