Browsing articles in "2018-2019 Mayor Jabba Riaz"
Last Saturday the need to remain resolute in the face of adversity, and unite against those that seek to divide us, was clearly illustrated.  Approximately 500 pro peace demonstrators came out and stood united for peace, love and harmony – thus preventing the EDL from marching through the city.
There has been a frenzy of media coverage and of people sharing some of what took place on Saturday via social media.  I stand firm in my message: love, not hate.  Despite some of the images and footage circulating, the majority of counter-protesters were calm, peaceful and measured. However, on both sides there was an element which behaved in an incendiary manner, fuelling hatred.  The police and the peaceful protesters did our city proud and I extend my thanks to them.  There are obvious lessons to be learnt if we are to avoid further violent scenes and scrutiny is already underway.
Shockingly on the same day, news broke in the evening of a disturbing and vile incident in which a toddler was the deliberate target of a suspected acid attack. The world's eyes watched. The City united in shock, horror and sympathy for the toddler and his mother. Truly the best of Worcester shone through and local political leaders are to be praised for their swift condemnation of these actions.  I am grateful to the emergency services and swift police operation, which has resulted in five men being charged.
The heart, in its essence, needs and wants love, not hate. So, fill your hearts with kindness and gratitude, so that love can express itself. I pray for peace for this wonderful city and its residents – and am thankful for all the support it has received this week.
The Remembering Srebrenica event was a powerful reminder of what hate, marginalisation, divisive rhetoric and fear can create on Europe's door step.  The genocide of 8,732 mostly Bosnian men and boys has left a permanent scar on Europe's psyche.
Harrowing words from survivor and bestselling author Mirsad Solakovic left all of us speechless, and many in tears. Humbling prayers were received from the Inter Faith Forum – from members of the Christian, Muslim, Jewish faiths, and those of no faith. Together they showed us that we have the power to stop this from happening again.  But our compassion and care must extend to all, and must not be limited to only those that we know or have an affiliation to, or those that are most visible in the media.
Compassion, to be truly realised, must by its very nature extend to all those who are suffering, those in war or those that are tortured at the hands of a tyrant – or those facing constant oppression, regardless of race, ethnicity, religion, gender or sexual orientation.  We are all members of the same human family.
Values of tolerance, patience and acceptance are synonymous with the British public and the city of Worcester. The beauty of living here is that we pull together in times of adversity and we celebrate as one in times of achievement.
Those that seek to divide will never fulfil that ambition, so long as there is a spirit of unity, care and compassion – which exists in abundance in this faithful City.  I was humbled by the overwhelming support that the Bishop and Dean of Worcester, as well as many others, showed me when I invited them to the Guildhall for tea earlier this week.  It was a beautiful meeting filled with goodness and positive intent.  It showed what we are good at:  building bridges, not walls; making friends, not enemies; spreading love not hate.  Stay happy, positive, smile, and make someone's day.
Ode to Frank , The Guildhall's Pride
To me, fair friend, you never can be old,
For as you were,  when first your eye, I eyed.
Such seems your beauty still, elegant and sublime.
29 winters long have you from the Parlour to the Chamber took,
29 Mayors' egos and prides!
29 beautiful springs to yellow autumn have turned in this very lower hall, through your laughter and your humour many moments to enjoy.
In remembrance to the dead every November you were ever present, your eyes shed tears, yet your heart showed courage but no fear.
29 fresh May elections to 29 hot Civic Services in June, have you witnessed in procession to the Cathedral.
All with equal Pride, passion and the vigour of youth.
With the sweat of your brow, Sword in hand, never once did you flag , frown or flounder.
The Pleasure of Her Majesty & The Royals did you on two occasions receive & entertain,
With grace and dignity did you perform a sight to behold, cherish & remember.
Yet you never tire, complain, groan or moan, this a Wise man's quality I do admire for sure.
Since first I saw you fresh, which yet you, are still green.
Ah, yet the beauty and loyalty, in you I still see.
So your sweet hue, which methinks still doth stand,
With this Portrait a part of you will finally be embedded in my fabric, and my heart will be at ease
As one of my greatest bondsmen is finally acknowledged with such elegance and grace as can be.
Like a lover being united with his beloved
It is a pleasure to have you amongst the ranks of greats that these walls have seen.
And Frank: here's to the years of service yet still to be seen.
by Cllr Jabba Riaz, Mayor of Worcester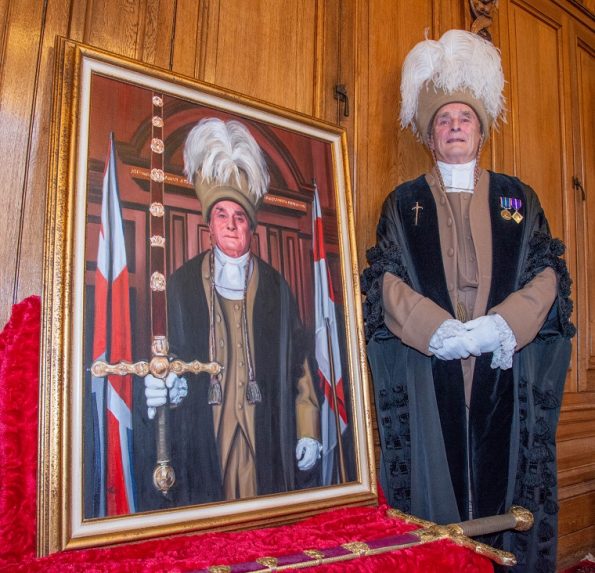 It's just not Cricket
Worcester is always busy in the summer – and this beautiful weather brings even more of a buzz and excitement.
Many of you know about my affection for cricket – usually a love-hate relationship depending how many boundaries I have been dispatched for!  I was proud therefore to host the England Partially Disabled Cricket Team, launching the Tri-series tournament where the England Team received their CAPS by David Graveney, former chief selector.
Talking about selections, it was a sorry affair which inadvertently put Worcester and England cricketing Legend Basil Olivera on the world political map. His non-selection triggered what was possibly the turning point in the breakdown of the apartheid regime in South Africa.  I am therefore honoured, along with fellow councillor Andy Roberts, to be able to propose a posthumous Freedom of the City award to him – a recognition which quite frankly is long overdue. One might say it just wasn't Cricket!
I must also mention the success of Worcester Carnival last Saturday – a great reintroduction to the city:  credit to all involved.
Worcester is now privileged to host the most amazing and sublime pieces of public art it has seen in a while!  The Worcester Stands Tall launch on Monday revealed the giraffes which have been placed across the city centre and riverside, showing off their elegance and magnificence. The project is raising money for St Richards Hospice – one of my designated charities for this mayoral year. Please donate generously!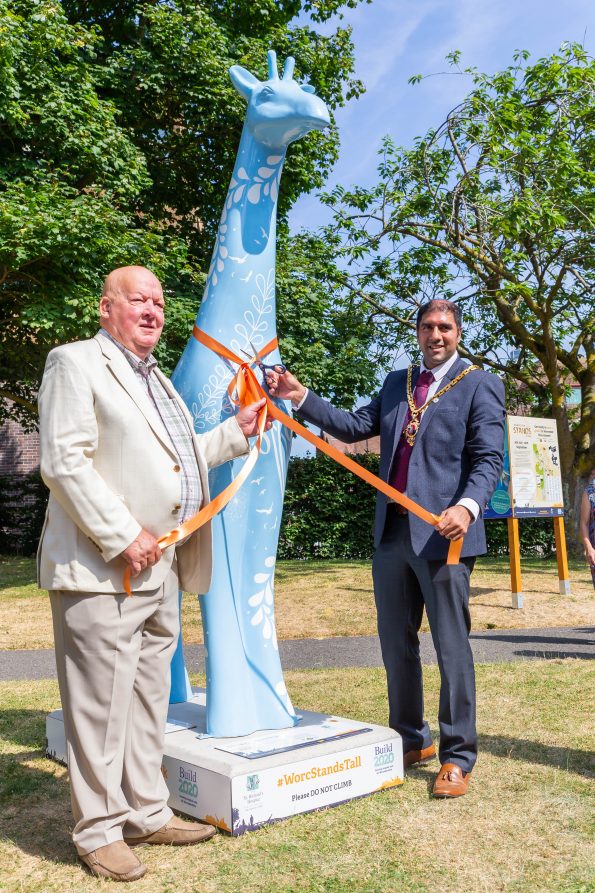 By the time this goes to press, England will either be playing in the third or fourth place play-off, or be in the Final of the World Cup. Either way the buzz of excitement and the atmosphere has been electrifying at times, showing what we can achieve by staying positive and believing.
Long may those feelings continue – it just goes to show it's all in your mind and you do have the power to change your state!
Upcoming Events
19/02/2019 19:00

Full Council
AEC v1.0.4