Mayor's Week: 10 – 16 October 2020
Mayor's Week: 10 – 16 October 2020
I was very pleased to be able to follow up my launch of Black History Month with a visit to Worcester University this week to see a display showing significant achievements of black people throughout history.   Thank you to the students for inviting me and allowing me to be part of this very worthwhile venture.
On Wednesday I was invited to take part in a new initiative created by the Vamos theatre company.  Vamos is a unique company who perform in full face masks and have been commended for their excellence and skill.  Inspired by the success of the Thursday clapping for NHS workers, they are initiating the Wednesday Wave when we are all encouraged to wave to someone who is alone and isolated in a care home or in their own home, to let them know they have not been forgotten and that we do care.  What a wonderful idea – I felt privileged to be part of the first Wednesday Wave this week.
I was very keen to hear from Sheena Payne-Lunn and Natasha Lord on Thursday about the Worcester Life Stories project.  This is an online platform which allows Worcester residents to describe their own life stories in words, photos and videos and is particularly enjoyable for those who can remember Worcester as it was many years ago, and who want to share that knowledge.  Please have a look at Worcester Life Stories web page (www.worcesterlifestories.org.uk) and see for yourself what a rich and diverse history Worcester has.
I hope you have spotted the fantastic pieces of artwork in the empty shop windows that I wrote about last week.   It is so uplifting to see the beautiful designs and pictures as we go about the town.  Congratulations and thanks to all those artists who created the pictures.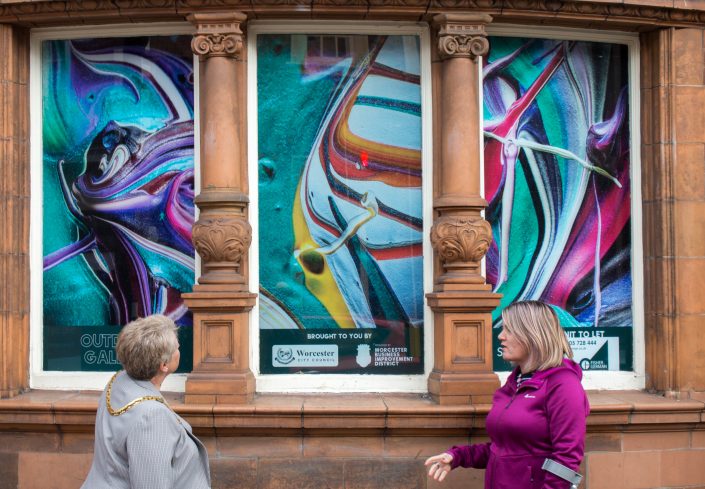 As coronavirus cases continue to rise, please take care of yourselves and others around you.  Keep to the rules to keep safe.