MAYOR'S WEEK: 23 – 29 JANUARY 2022
MAYOR'S WEEK: 23 – 29 JANUARY 2022
Last week I reported that I would be going to Parma in Italy to support the Worcester Warriors, and hopefully I would meet the Mayor Federico Pizzarotti. On Saturday morning I met him in the town hall where I was able to view their council chamber and see the mayor's office. Their council chamber is set up very similarly to the one in our Guildhall, and they even use the same microphone system as us.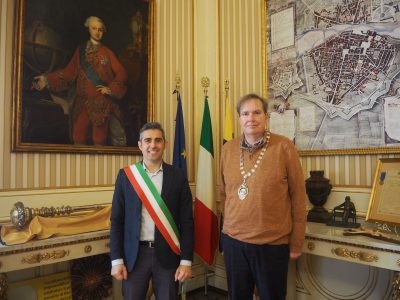 Whereas I am principally a ceremonial mayor with a term of office of just a single year, the Mayor of Parma is directly elected by the citizens of the city on a five-yearly basis. We exchanged gifts, and I was given a beautiful book on the city of Parma which I have left in the Mayor's Parlour in the Guildhall for visitors to look at.
After my visit to the Parma town hall, I attended the rugby match, as the only travelling Warriors supporter. Along with the girlfriend of Sione Vailanu, the Warriors number 8, we were the only people cheering them on to their 36-26 victory over Zebre. Hopefully the win will take Worcester into the next round, and the easing of Covid travel restrictions will mean there will be a few more of us cheering them on.
This Thursday was Holocaust Memorial Day, and a Civic Commemoration was held at the Guildhall. The event was introduced by the Deputy Lieutenant Mrs Patricia Bradbury MBE JP DL, followed by a moving speech from Dr Mindu Hornick MBE. She is a survivor of the Auschwitz-Birkenau concentration camp and has devoted her life to educating all of us about the horrors of the Nazi holocaust.
A musical contribution was made by three talented students from Worcester RGS, who performed part of the score from the film Schindler's List. This was followed by contributions from students from all the Worcester high schools. Students from the University of Worcester also read out commitments that pledged our intention to tackle the issues that have led to geocide.