Mayor's Week June 18 – June 25
Mayor's Week June 18 – June 25
When I agreed to sing with the Ukelele Band on Saturday, raising funds for Pancreatic Cancer UK, I didn't mean my choice of song to impact on the weather. That was a great shame as the all-day event to mark the centenary of Gheluvelt Park was pretty much rained off at lunchtime!
In the morning the Lord Lieutenant, High Sheriff, veterans, VIPs and the regimental ram braved the rain for a short service. We were very pleased to have Lady Lucy French with us as well, who is the great granddaughter of Sir John French who had been in command of British Forces at the start of the First World War. He was awarded Freeman of the City and opened the Park in June 1922.
As it was intended back then, Gheluvelt Park serves as a memorial and also a living green space in the heart of the community. Just a shame about the rain.
The military theme was updated with the raising of the Armed Forces Day flag on Monday, a brief ceremony attended by a number of veterans and public. On that day we remember not just those who have died but those still serving, and very importantly, their friends, families and the communities around them.
And taking of the local community I was really pleased to see so many old friends, work colleagues, representatives of local groups and organisations that contribute so much to the City, and mayors from around Worcestershire and beyond, at the annual Civic Service.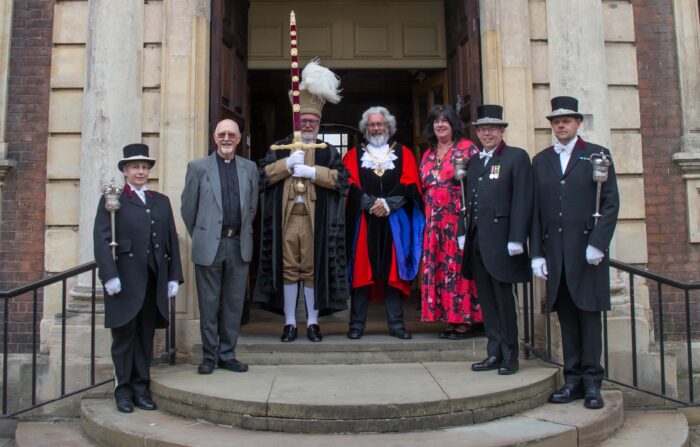 I can claim some credit for the choice of music, but not for its excellent presentation or delivery. Thanks also to the Cathedral authorities, especially the Dean whose sermon touched a number of significant issues for the city. As this is the Civic Service, for the whole council and not just its mayor, thanks are also due to the handful of councillors who were able to attend. I will be self-indulgent however,and thank the staff of the Bellingham care home that brought my Dad to visit for the day from Lancashire.