Mayor's Week: 1 – 7 February 2020
Mayor's Week: 1 – 7 February 2020
I'm fascinated to read that Chicken Tikka Masala is officially England's favourite dish.  Funny that, as I'm not really into spicy dishes and mine is fish 'n' chips – which is fortunate as that's just what was served-up at three official functions in the past week!
One was at Kidderminster Mayor Cllr David Ross' Charity Quiz Night last Thursday when 'The Chain Gang' – Chairman of the County Council Peter Tomlinson, Droitwich mayor William Moy and I – muddled-through to come fifth out of twelve teams.  It also proved much the same story the following night at Chairman of Malvern DC Cllr Dean Clarke's Charity Beetle Drive at Hallow.
No surprise, then, that Sunday saw me breathless – not as the unhealthy result of culinary piscatorial over-indulgence, but by the sheer power, colour and energy of the Chinese New Year celebrations.  People talk about Worcester's diversity and inclusivity and this was a perfect example.  Sheer magic, my hat duly taken off to every performer, no-one excluded.
However fish 'n' chips wasn't on the menu when I called in to the Anarkali Restaurant, now re-vamped and re-vitalised and given a 4* hygiene rating after a lapse of attention last year.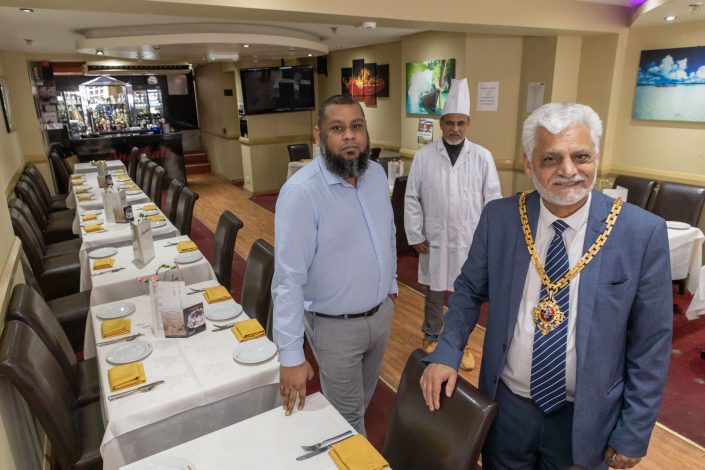 This was followed by a meeting with Rinku Khan, whose Step by Step Recruitment firm aims to provide a pathway to employment for more Asian people.  Finally, a tour of the newly refurbished Anbrian House in The Tything all highlighted significant improvements.
I'm also liking the sound of a new community engagement group, Make Time for Friendship, headed by Jenny Manchester who called into the Parlour for a chat about future plans on Thursday, while Worcestershire Ambassadors – an organisation of which I was a founder member – will, I don't doubt, go from strength to strength under its new Chairman Julia Williams.
I was left breathless once again at the Swan Theatre, for Kay's Theatre Group's 66th pantomime 'Robinson Crusoe and the Pirates'.  Although I'd already had a sneak preview some weeks ago, I was still not quite prepared for the utter brilliance of the finished – and very polished – final show.  'Amazing' fails to do it justice.