Mayor's Week: 16 – 22 October 2021
Mayor's Week: 16 – 22 October 2021
Last Sunday the Mayoress and I were at St John's Church in Bromsgrove for the Civic Service of Bromsgrove District Council, to support the Chairman, Councillor Rod Laight in his year of office.  On Friday we also attended his charity Wine Tasting and Grazing event, which was held at the Old Rose and Crown, Lickey.
On Tuesday I was delighted to re-open the newly refurbished outdoor pitches at Perdiswell Leisure Centre. The new, luscious 4G pitches at Perdiswell are a big improvement on the old AstroTurf.  After cutting the ribbon I met members of the Walking Football club who were using the facility. Walking football is an enjoyable way for older adults who enjoy football to socialise and keep fit.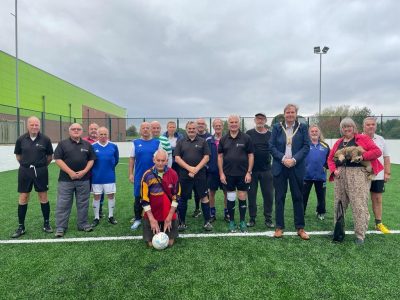 The highlight of the week was on Thursday, when I attended Light Night Worcester 2021 – a free event that is part of the series of Arches Festivals that continue to take place around our city. The mayoress and I met Min Sowden from Severn Arts and the organisers and sponsors of the event at the Undercroft in the Cathedral beforehand.
When dusk fell, we joined the queue to see "Lilliput by imitating the dog" at the Old Palace. As both residents and representatives of Warndon Villages, it was a thrill to see local children from the Lyppard Grange Primary school being projected onto the façade of the Old Palace showing their imaginative ideas.
In Cathedral Square the crowds were entertained and amazed by two giant stag puppets that comprised "Ghost Caribou", performed by the Thingumajig Theatre. Wearing my mayoral chain, I handed out mayoral badges to many happy children.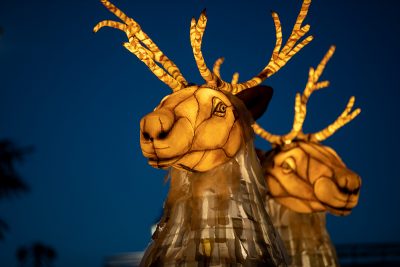 As Mayor I spent many hours in the Guildhall, and it was therefore fantastic to see "Ring the Changes" by Illuminos. This incredible illuminated display projected onto the front of the building told the story of Worcester's past and some of the many Guilds the city used to have. There were a total of eight sets of projection art and performances around the city centre.
Finally, this morning I made a speech in the Guildhall to celebrate Black History Month. In my speech I acknowledged the hard history many black people have experienced, but also pointed out the many achievements they have made.