Mayor's Week: 20 – 26 June 2021
Mayor's Week: 20 – 26 June 2021
(written by Deputy Mayor, Cllr Adrian Gregson)
It was great to see the students in their gowns up and down the High Street this week, to and from the Cathedral for their graduations, celebrating their academic achievements with the support of their families. I know that covid safety has been at the forefront of the University's planning, as it has been for all of us, in meetings, watching the football and the T20s, going to work, or just sitting (sometimes) in the sun. Hopefully a few more weeks will assuage the disappointment of the Summer Solstice being a damp squib, weather and covid-wise!
On Tuesday I had the opportunity to stand in for the Mayor, with the Deputy Lord Lieutenant, at the raising of the Armed Forces flag, marking the start of Armed Forces week.  I was joined by representatives from the British Legion, 214 Battery, Cadets, Stepway Charity and the Mercia Regiment. A small crowd watched the ceremony outside the Guildhall, and afterwards we were photo-bombed by a couple of students for their graduation pictures! The cadets got a bit more than they bargained for!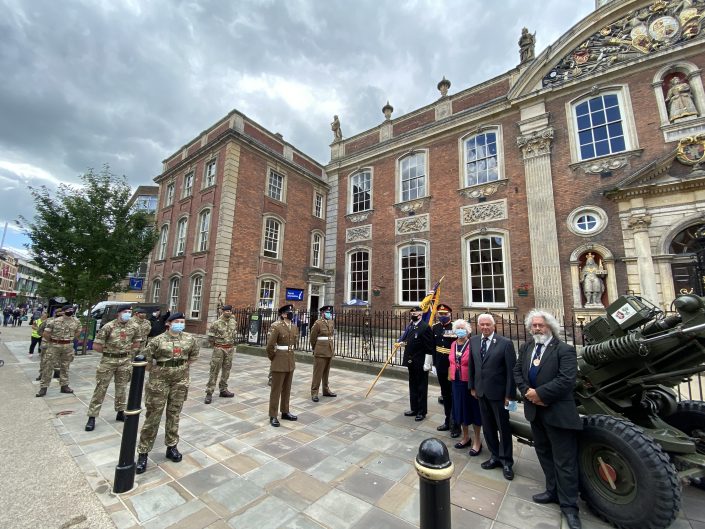 Following on from Tuesday's event, Wednesday this week marked United Nations Public Service Day.  Maybe this can be more obviously marked in the future, considering our experiences over the last year.
I am looking forward to covering for the Mayor again on Sunday to mark the 100th anniversary of the Worcestershire Motor Club. The Greenleaves Centenary Classic Tour event will cover 100 miles of county lanes, with a ceremonial waving off of these classic cars from the Guildhall. The Club has its origins in Worcester's engineering companies and competes at various trials and rallies. I am especially looking out for one of those escorts my mum and dad had, which probably brought me on my first trip to Worcester back in the 70s.