Mayor's Week: 20 – 27 June 2019
Mayor's Week: 20 – 27 June 2019
Now, if you're thinking that being Worcester's Mayor must be a privileged doddle, then reflect on this.  I'm six weeks in and have already completed more than a hundred official engagements.  There were twenty this week alone, not a one of which found me wishing that I was somewhere else!
Events on Wednesday included the unveiling of St Richard's Hospice Legacy Bench outside the Guildhall (you can't miss it, it's a beautiful shade of blue); a fruitful meeting with Tomasz Wisniewski of the Worcestershire Polish Association and then on to The Cavalier in Kidderminster for the Mayor's Charity Darts Tournament. You'd have been proud of me: I played a grand first round, but was out-thrown by the eventual winner, Peter Tomlinson – County Council chairman!
The next day I was honoured to relive ex-mayor Liz Smith's memories of the Parlour and Guildhall with her family.  This was followed by the RGS Commemoration Service at the Cathedral before a dash over the river for the University's Worcestershire Education Awards.
An update on the activities of my four charities – St. Richard's Hospice, Worcester Wheels, Headway and the Cathedral – accounted for much of Friday morning.  Afterwards I went to a delightful coffee morning at Lyppard Hub's Great Get Together event – proof that community spirit is alive and well. I was enchanted, too, by the work of children at Stanley Road Primary School, whose Spiritual Garden is wonderful.
On Saturday I witnessed the Rotary Club Board March and a gorgeous performance of Aladdin by All Sorts of Performing Arts at Medway Community Centre. Sunday saw me enjoying the Elgar Chorale's Summer Serenade at St George's Church.
Monday was a proud day; I was honoured to speak at the Armed Forces Flag Raising ceremony at the Guildhall.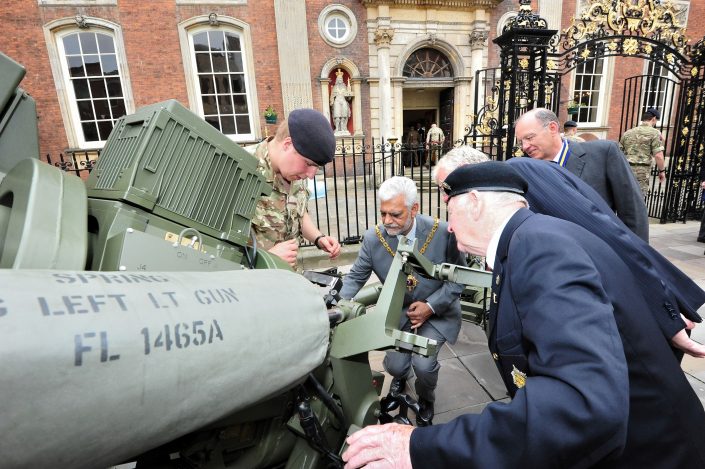 In the afternoon I was a guest at a rather unusual ceremony:  the unveiling of the Samaritans Crossroads telephone box at Powick.
The next day I met students from the Heart of Worcestershire College, greeted new City Council employees and watched The Grange's Year 6 production of Peter Pan.
Phew… made it!  Amazing.  Quota complete.