Mayor's Week: 17 – 22 August 2019
Mayor's Week: 17 – 22 August 2019
A touching moment to start the week:  the much delayed presentation of WWII medals – including the Legion D'honneur – to RASC veteran Lance-Corporal Colin Palmer who was at the D-Day landings and the liberation of Belsen, and was a motorcycle messenger throughout the European campaign.  I say 'much-delayed':  Colin is now 98 so that gives a clue as to how long – and all credit to Age UK's Veterans Service which did tireless work to make the event happen.  I was proud to be there.
I'm also pleased that Harriet Winestock, manager of the local Aldi has pledged support for my local charities: my target this year? £100,000.
There was more 'looking back' the next day, with the official opening of the Studios at the Old Infirmary.  Such a pleasure to see a building with so much history brought back to life and converted to residential use.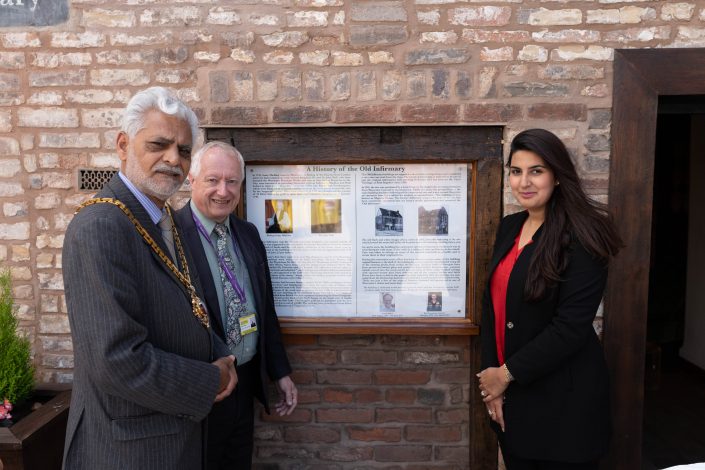 With 'cricket' taking over from 'Brexit' as the nation's prime talking point at the moment, it was a rare pleasure to be invited to a celebratory lunch at the Arena, organised by the University.  This was as an opportunity to meet the captains of the five national teams competing in the Physical Disability T20 Cricket World Series.  August has seen England, India, Pakistan, Afghanistan, and Bangladesh battle it out, and I hear that India went on to beat England in the final.
I've never made any secret of my close association with the Rotary Club of Worcester and all its good – no, I'll re-phrase that, great – works, which made the weekend's Charity Showcase at the Guildhall all the more personal.  This was an opportunity for all the city's lesser known charities to promote themselves, and a grand job they did too. I was similarly delighted to present cheques of £1,000 a piece to Worcester's Snoezelen and West Mercia Rape and Sexual Abuse Centre, proceeds from the street collections at the recent Carnival.
Finally, I've self-diagnosed myself with a new ailment – weddingitis.  I've been to more than thirty this year alone and three more are taking pace this week – one in Kent.  Think I need a rest!