MAYOR'S WEEK: 19 – 26 FEBRUARY 2022
MAYOR'S WEEK: 19 – 26 FEBRUARY 2022
One of the main roles of the Mayor is to chair the full meeting of the City Council, and the February Council meeting that was held on Tuesday is one of the most important. This is the time of the year when the council's budget is set, and many reports must be put to the vote. The budget had three amendments that also required separate votes. On top of that, the meeting included three separate motions from Councillors.
Ahead of the main meeting, an additional extraordinary meeting took place, at which the Council made the historic decision to recommend that all-out elections are held every four years, rather than the current model of one-third of councillors being elected each year. I felt exhausted by the end of a long but important night during which many votes were required.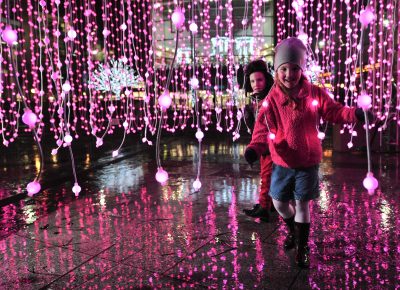 My next visit into the city centre was for more fun reasons, to visit the Light Night Worcester event. Despite the terrible floods, the Arches Festivals team put on another great show that was once again well attended, with long queues to enter the various performances. When I arrived at the Guildhall, the Mayoress and I witnessed Luma the giant illuminated caterpillar, made by Air Giants, in the Lower Hall. Certainly, the queues outside were much longer than they were for Tuesday's meeting!
Walking around town we saw the Neon Dogs by Deepa Mann-Kier, that featured on the front of the festival's promotional leaflet, and the amazing Lips by Puppets with Guts in Cathedral Square. Across the road from there the trees outside the Cathedral were lit in red, and the walk through the garden led us to Submergence by Squidsoup in the Old Palace. Everyone was mesmerized by the lights constantly changing colour.
We saw the other performances was we walked to the Crowngate car park where the popular Silent Disco was taking place on the floors 5 and 6. The headphones gave the user the choice of three music channels that glowed in either blue, green or red. I went against my usual political preference opting for the green channel that played 1990s dance music, which worked well with the disco lights.