MAYOR'S WEEK: 27 FEBRUARY – 5 MARCH 2022
MAYOR'S WEEK: 27 FEBRUARY – 5 MARCH 2022
I suppose it was inevitable that sooner or later I would get a positive Covid Test. Thankfully my symptoms are relatively minor and are like a heavy cold, but it has meant I have had to curtail some of my plans for this week. I was disappointed I could not attend the Knife Angel launch event in Cathedral Square on Wednesday. I was due to accept a certificate that honoured the City Council's work in combatting violence in our city.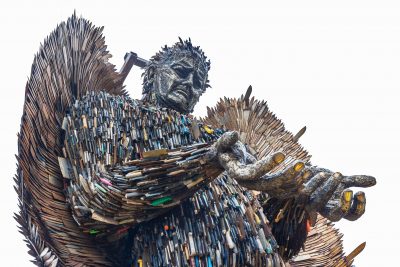 The Knife Angel is an amazing eight-metre-high monument constructed out of knives handed to the police, that was produced by the artist Alfie Bradbury of the British Ironwork Centre in Oswestry, Shropshire. It is a fitting memorial to those you have lost their lives to knife crime. The statue's presence is being used to discourage people from using the knife for violent and aggressive behaviour. There is an amnesty box at the base of the statue, where knives van be handed in and safely disposed of.
On Monday evening I did make the Twinning Association Annual Meeting. Former City Councillor and Mayor Liz Smith stepped down as Chair of the Association and I wish her replacement Rosemary Campbell every success. It was good to hear once again about future visits after the problems of the past two years. After the business of the meeting Dill Porter gave a fascinating presentation on our early football connection with Worcester, Massachusetts. One of my predecessors as mayor, Sir Arthur Carlton, was one of the early promoters of twinning arrangements that led to a series of matches held in the late 1920s between representative teams from our now twinned cities that alternated between here and the USA.
On Thursday I was pleased to arrange a street collection licence on behalf of the Disasters Emergency Committee Ukraine Humanitarian Appeal. If you are in the city centre on Saturday then look out for members of Worcester Vigornia Rotary Club with their collection buckets.