Mayor's Week: 30 May – 5 June 2020
Mayor's Week: 30 May – 5 June 2020
It is just over two weeks since I became the 399th Mayor of Worcester – and I would like to say thank you to all the people who have contacted me to offer their congratulations and good luck messages.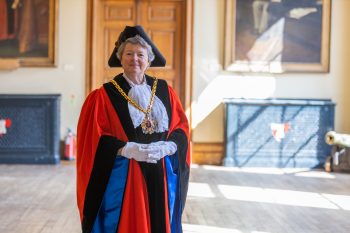 It is a strange time to be taking on a role which is essentially about being out and about with Worcester people, supporting and encouraging them.  Because of coronavirus restrictions I have been out very little, and I've had to show my support by writing messages of encouragement rather than attending events.  Unfortunately the launch of the Elgar Festival and Elgar concerts have been cancelled;  it is so sad to miss the opportunity to celebrate the music of one of the greatest composers of our time, who was born at Broadheath here in Worcestershire.
This week has been National Volunteers' Week and whilst we were not able to celebrate the event with the usual Volunteer Exhibition, I have praised and thanked Worcester volunteers for being the heroes that they are through social and local media.  The present restrictions on our lives have meant that we have relied on our wonderful volunteers more than ever.  Thank you for everything that you have done during this difficult time.
Next week is National Carers' Week – an opportunity to acknowledge the huge contribution all our carers make to society.  I was pleased to be able to send a message to our young carers who, at a very young age, selflessly give their time and energy to look after friends and family.  They are an example to us all.
Stuart Inglis, Principal of All Sorts Performing Arts, contacted me to say how hard he and the other teachers and volunteers at the Academy are working to ensure that the young dancers and performers there are able to gain their certificates.  Well done to all you performers.  I was also pleased to be able to send a message to the Wildgoose weekly newsletter "Gander at the Goose," which is supporting students who would normally attend in person at the Wildgoose Rural Training and Nature Reserve in Hallow.
I am looking forward to a gradual return to a more normal life – and the chance to come and meet more of you as my mayoral year continues.